Hi omnes,
Grata visere fabricam nostram operandi area pre-occasum. nostri moriendi& molae conficiendae specialitas in textis tam syntheticis quam tinctis naturalibus factis.
Gratam quaerere quaestiones.
Basic notitia
anno potitusque

1986

Business Type

vestibulum Industry

Patriae / Regio

CHINA

pelagus Industry

fabricae

pelagus Products

Nylon fabrics, polyester fabrics , blended fabrics ,cotton fabrics , regenerated cellulose fabrics like bamboo fabrics and modal fabrics

Legal personam Enterprise

ZHANG JIA XIN

summa Employees

201~1000 people

Precium annua output

Over 20,000,000 kg

export Market

Seres continenti,Unionem Europaeam,Medio Oriente,Orientalium Europa,Americae,Africa,Oceania,Hong Kong et Macao et Taiwan,Japan,Southeast Asia,Americae

Customers aliquid

America, South Africa, East Asia, Europe etc
turba Profile
De GuangYe/Xinxingya

Sinis in continenti Knitted Fabric Supplier

Ex eo loco Xinxingya anno 1986. constitutum est, nos unum e praecipuis praebitoribus Sinarum continentis fabricae fuimus. Cum facultatem supra 10,000 metrorum quadrata aream operandi et machinae conexae circularis fere 100, machinae plus quinque praecellenti, omnem operam in innovando ponimus, excellentiam et altiorem satisfactionem emptoris quaerendo. Mense Aug 2020, molendinum nostrum tingendi & conficiendi publice elaborandum est. Solutionem unam sistendam praebemus a connexione ad tingendum et perficiendum in propriis molendinis nostris supra XXX annorum experientiam.

Fabricae Supplier Focusing on Development and Material

Potes invenire varias conexionum machinis ad quamlibet fere structuram. GuangYe mercatus requisita cognoscit et procurationem materialem, mercatum et productum progressionem spectat ac alia negotia quae solus adiacet.

GuangYe fabricam praebent subtemine ut clavum, interlock, jacquard, tricot etc. facta ex tincto naturali et synthetica, puta bamboo, rayon, bombace, serico, lana, polyester, polyamide. Nostras tingendas & conficiendas molam specialize in tingendis et syntheticis textis, et stapulam tinctam fabricam.
GuangYe semper qualitatem intendunt, haec prima cura pro nobis semper fuit. Dum GuangYe negotia exercenda envirmentaliter sustineri semper studuit, cognoscentes eas non modo trend, sed etiam industrias quasdam futuras, GRS certificationem et OEKO-TEX 100 ad nostram visionem sustinendam habemus.
turba Video
certificaciones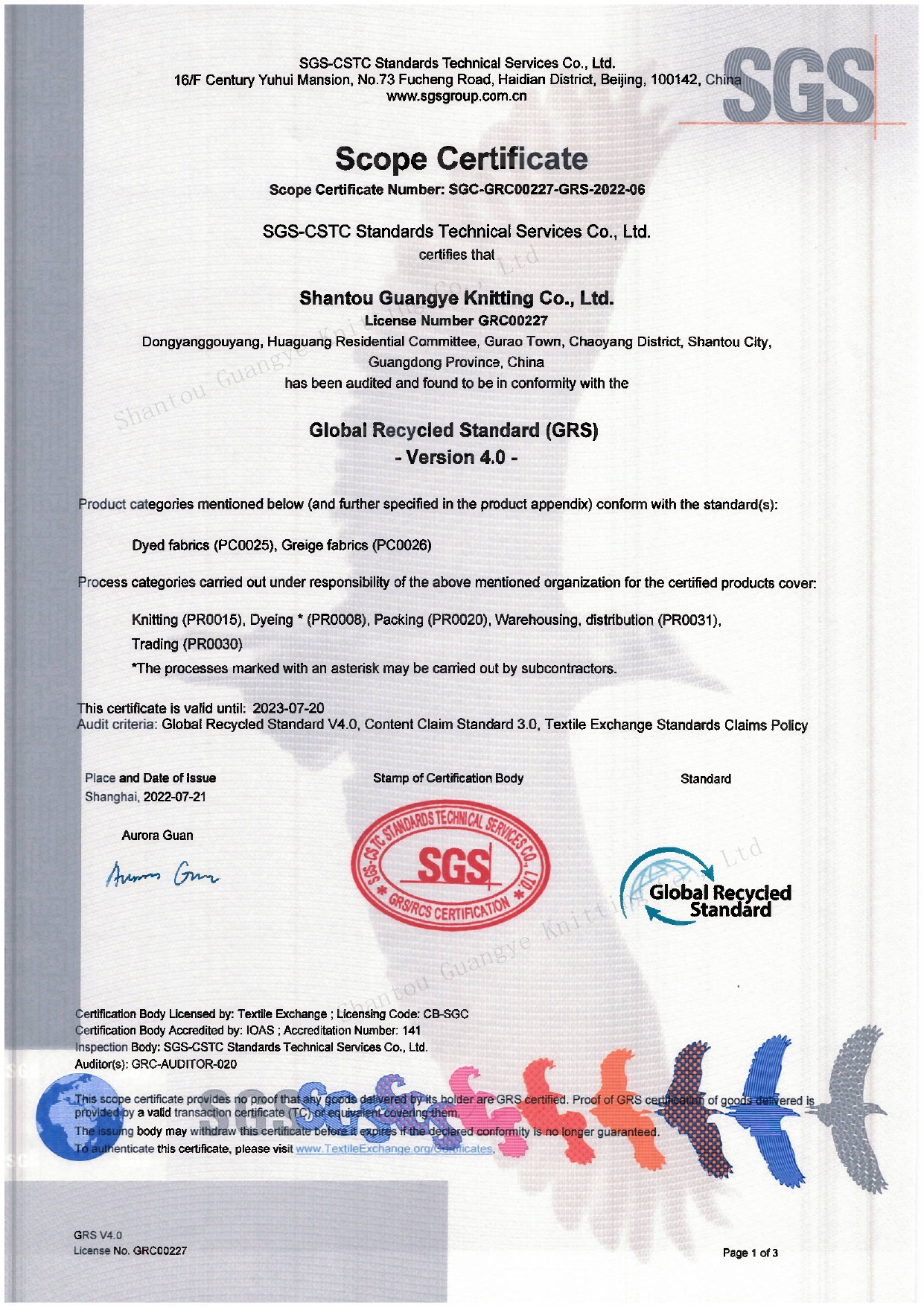 GRS&RCS-F30 GRS Scope Certification photo 1
per proventus:SGS-CSTC Signa Technical Services Co., Ltd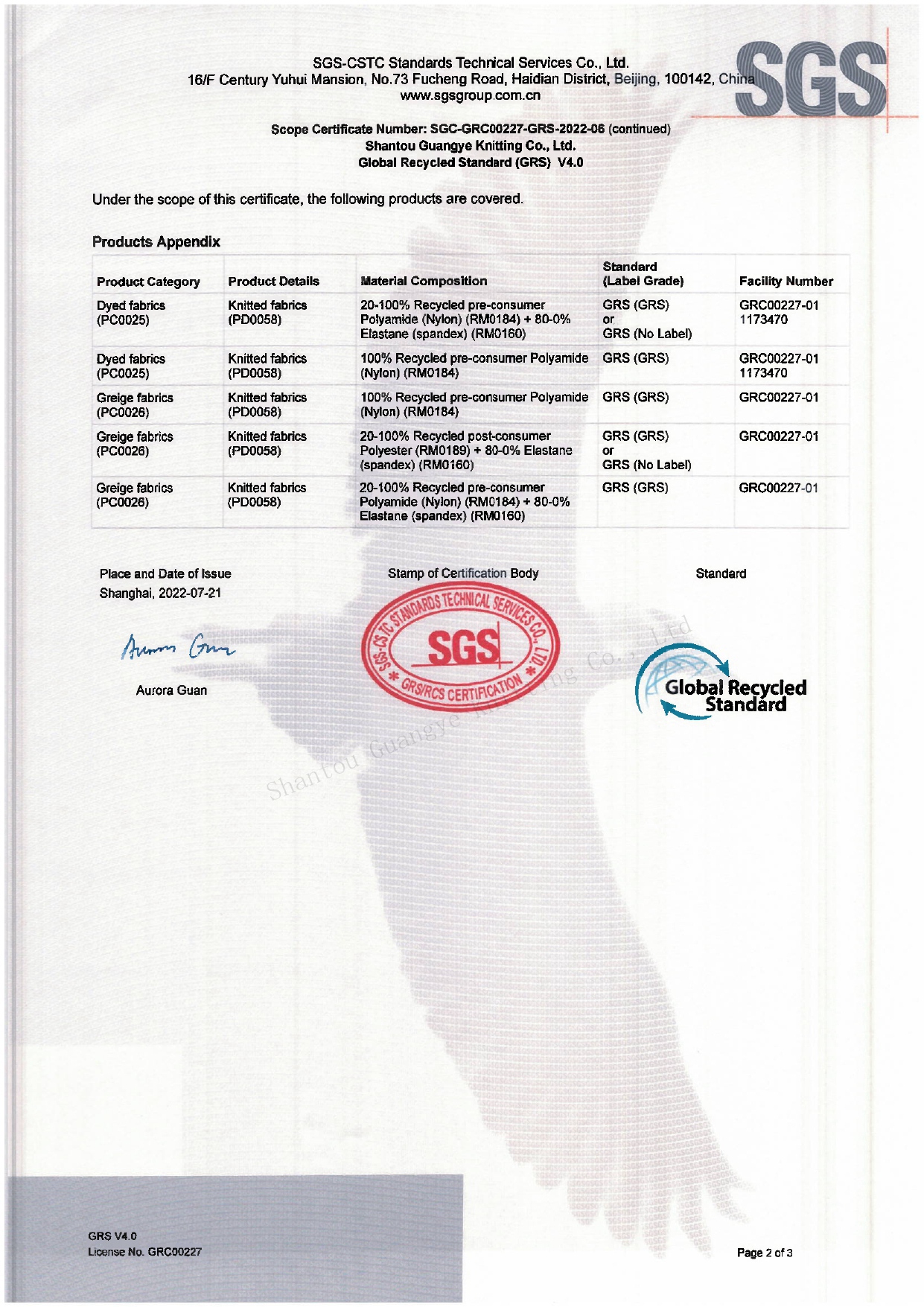 GRS&RCS-F30 GRS Scope Certification photo 2
per proventus:SGS-CSTC Signa Technical Services Co., Ltd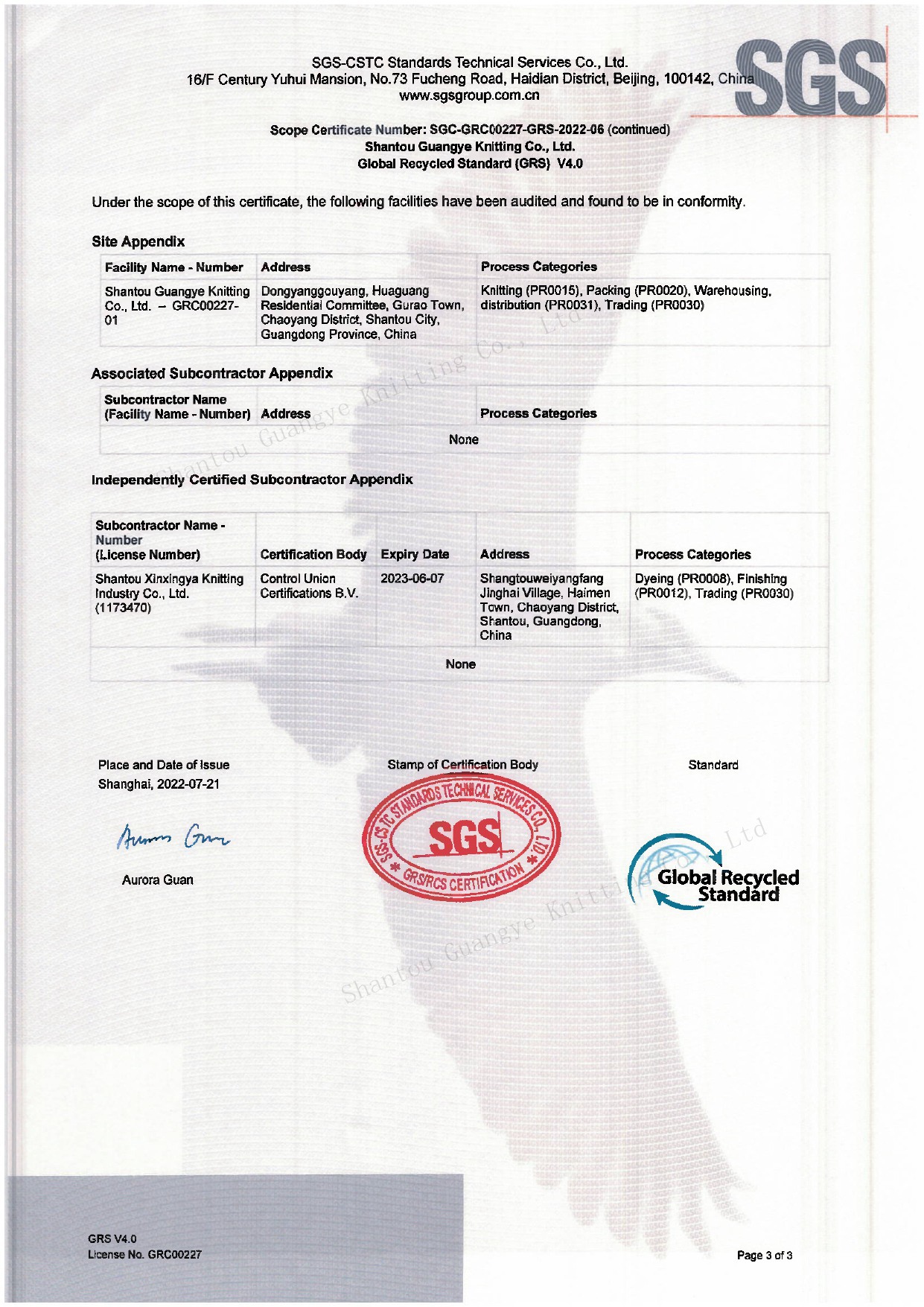 GRS&RCS-F30 GRS Scope Certification photo 3
per proventus:SGS-CSTC Signa Technical Services Co., Ltd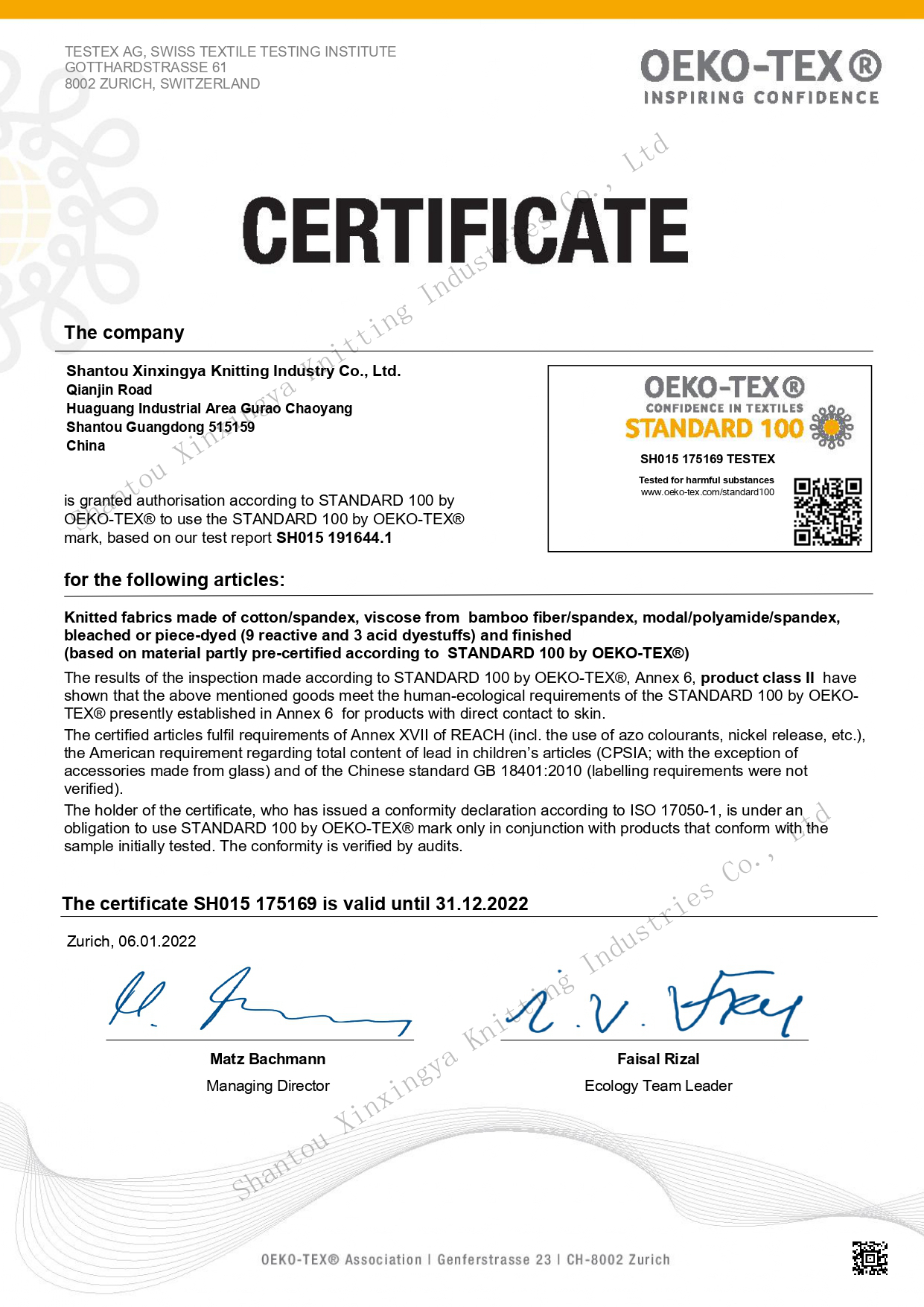 OEKO-TEX100 2022 XINXINGYA
per proventus:TESTEX AG, SWISS TEXTUS PROBATIO INSTITUTO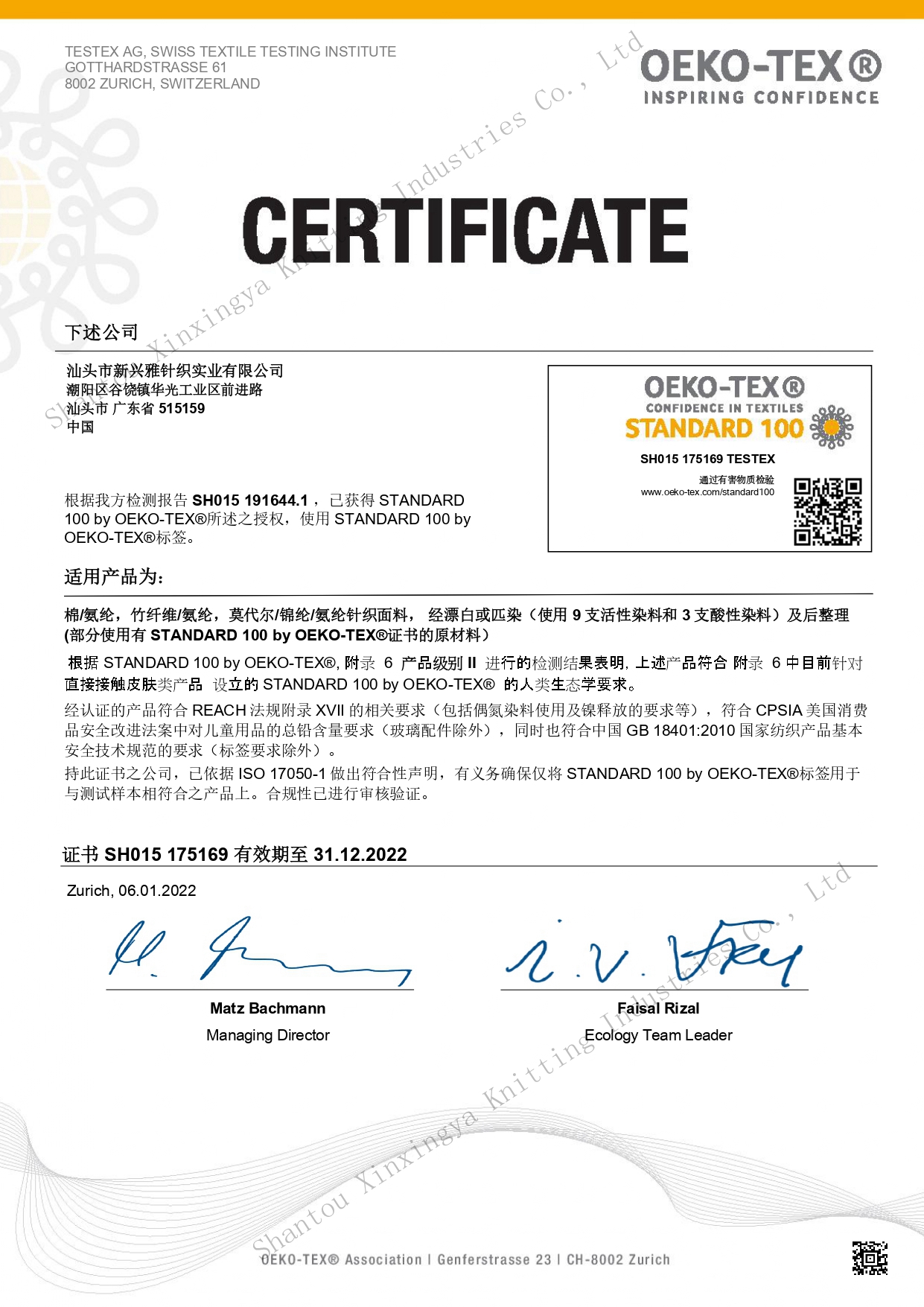 OEKO-TEX100 2022 XINXINGYA _Chinese version
per proventus:TESTEX AG, SWISS TEXTUS PROBATIO INSTITUTO