Have you ever worried about the color shade of different dyeing lot for mass bulk ?

Recently ,our 2.4tons dyeing machine has been installed and being tested .
With maximum output 2.4tons per lot will definetly solve the color shade issue .
The new imported machine is suitable for fabric make from natural fiber and blended fabric.
Such as bamboo fabric,modal fabric ,cotton fabric ,bamboo cotton fabric ,TC/CVC fabric ,modal cotton fabric with or without spandex etc.
Contact us for more information and look forward to cooperate with you.
Thanks for your time.
Basic Information
Year Established

1986

Business Type

Manufacturing Industry

Country / Region

CHINA

Main Industry

Fabric

Main Products

Nylon fabrics, polyester fabrics , blended fabrics ,cotton fabrics , regenerated cellulose fabrics like bamboo fabrics and modal fabrics

Enterprise Legal Person

ZHANG JIA XIN

Total Employees

201~1000 people

Annual Output Value

Over 20,000,000 kg

Export Market

Chinese Mainland,European Union,Middle East,Eastern Europe,Latin America,Africa,Oceania,Hong Kong and Macao and Taiwan,Japan,Southeast Asia,America

Cooperated Customers

America, South Africa, East Asia, Europe etc
Company Profile
About GuangYe/Xinxingya

Professional China mainland Knitted Fabric Supplier

Xinxingya was established in 1986. Since that point, we have been one of the main China mainland fabric suppliers. With a capability of over 10,000 square meters operating area and nearly 100 circular knitting machine, plus 5 pre-setting machine, we place all our effort into innovation, searching for excellence and higher customer satisfaction. In Aug 2020, our new dyeing & finishing mill has officially put into production. We provide one-stop solution from knitting to dyeing and finishing in our own mills with over 30-years experience.

Fabric Supplier Focusing on Development and Material

You can find a variety of knitting machines for just about any type of structure. GuangYe knows the market requirements and it focuses on material procurement, market and product development as well as other adjacent tasks as you go alone.

GuangYe provide knitted fabric like stripe, interlock, jacquard, tricot etc made from natural and synthetic yarns, for instance, bamboo, rayon, cotton, silk, wool, polyester, polyamide. Our dyeing & finishing mill specialize in dyeing both synthetic fabrics and staple yarn fabric.

GuangYe always focus on quality, this is a primary concern for us and always has been. While GuangYe has always strived for envirmentally sustainable business practices, recognizing them not just as a trend, but also the industry's certain future, we have the GRS certification and OEKO-TEX 100 to support our environmental vision.
Company Video
Certifications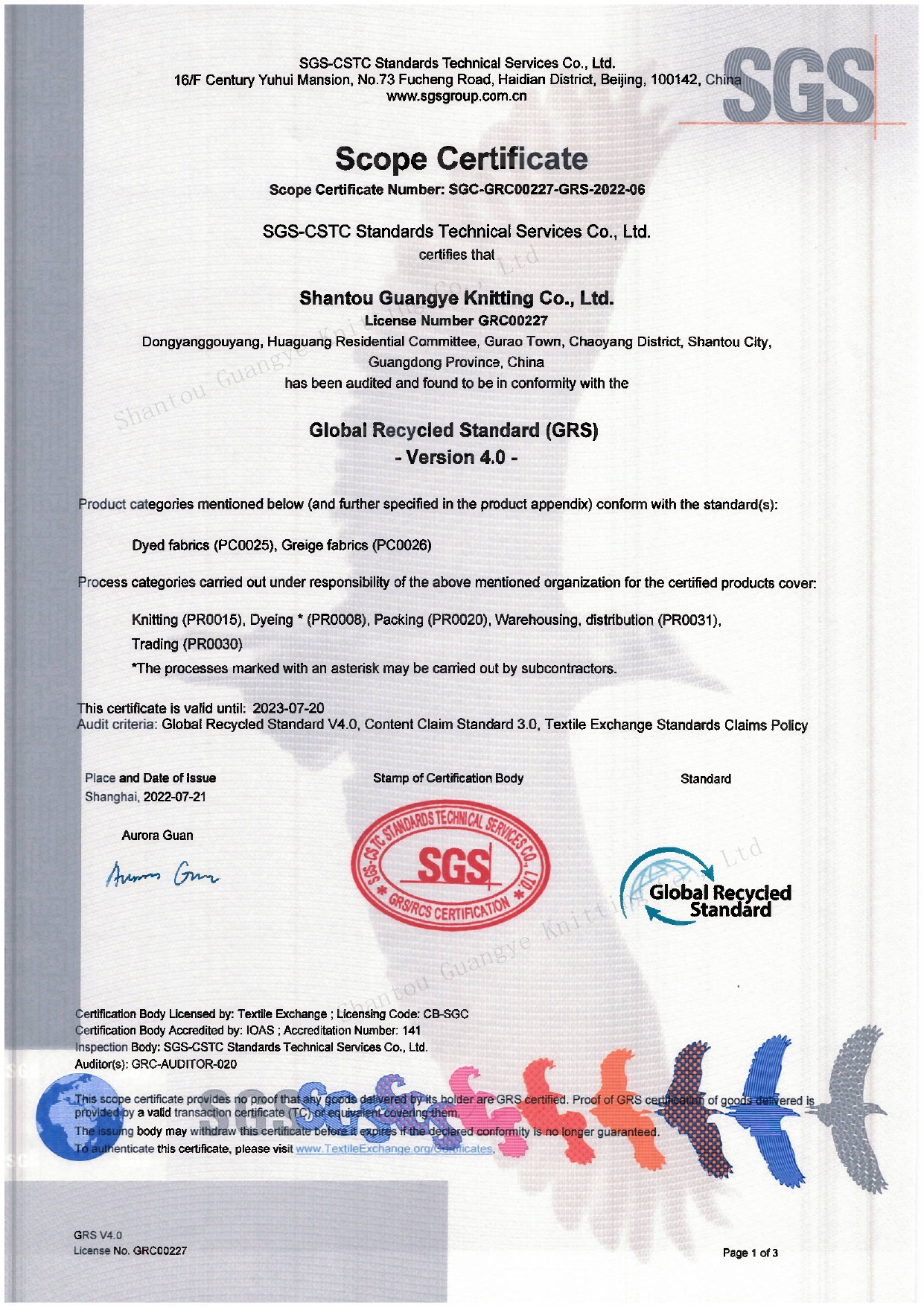 GRS&RCS-F30 GRS Scope Certificattion photo 1
Issue by:SGS-CSTC Standards Technical Services Co., Ltd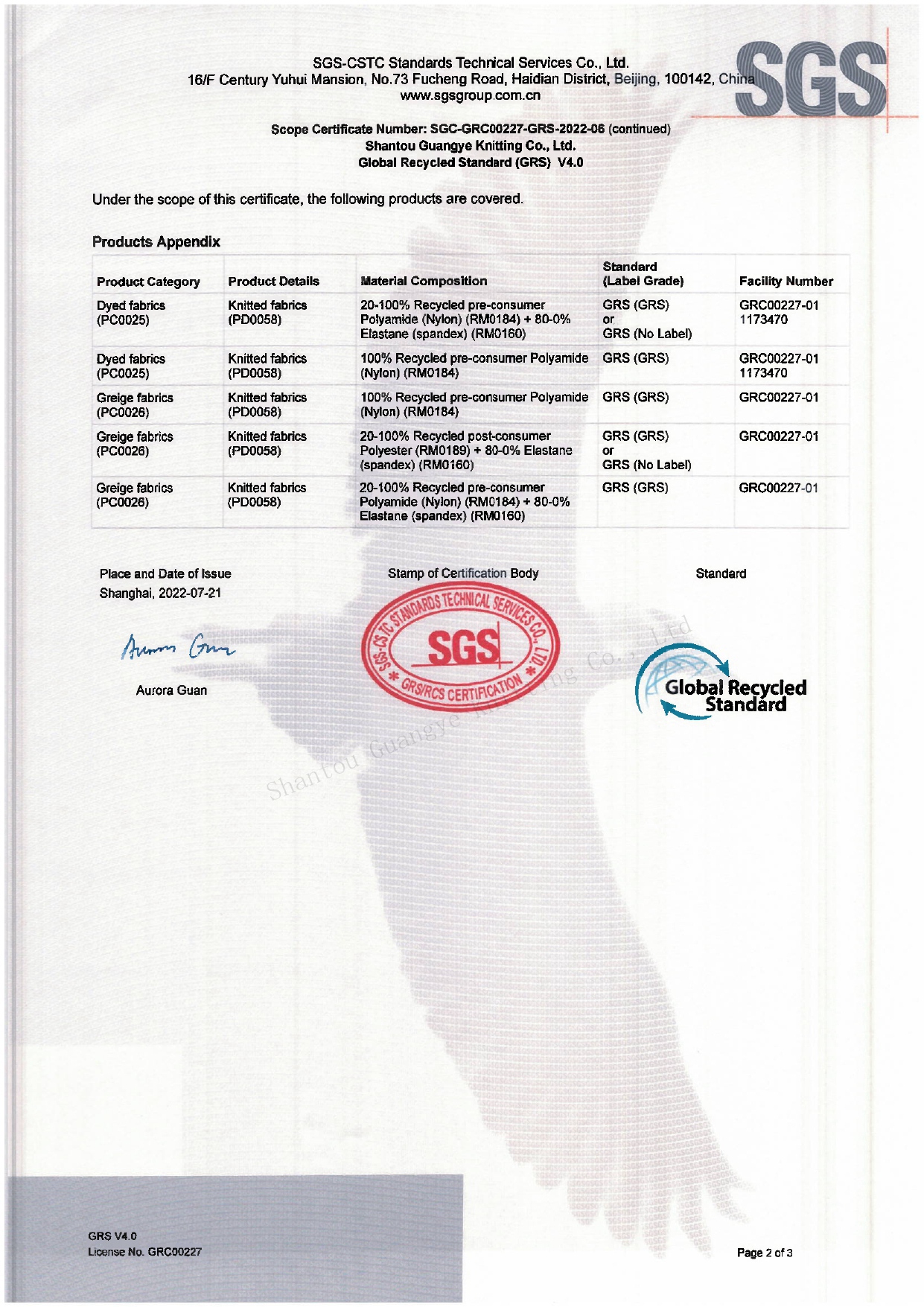 GRS&RCS-F30 GRS Scope Certification photo 2
Issue by:SGS-CSTC Standards Technical Services Co., Ltd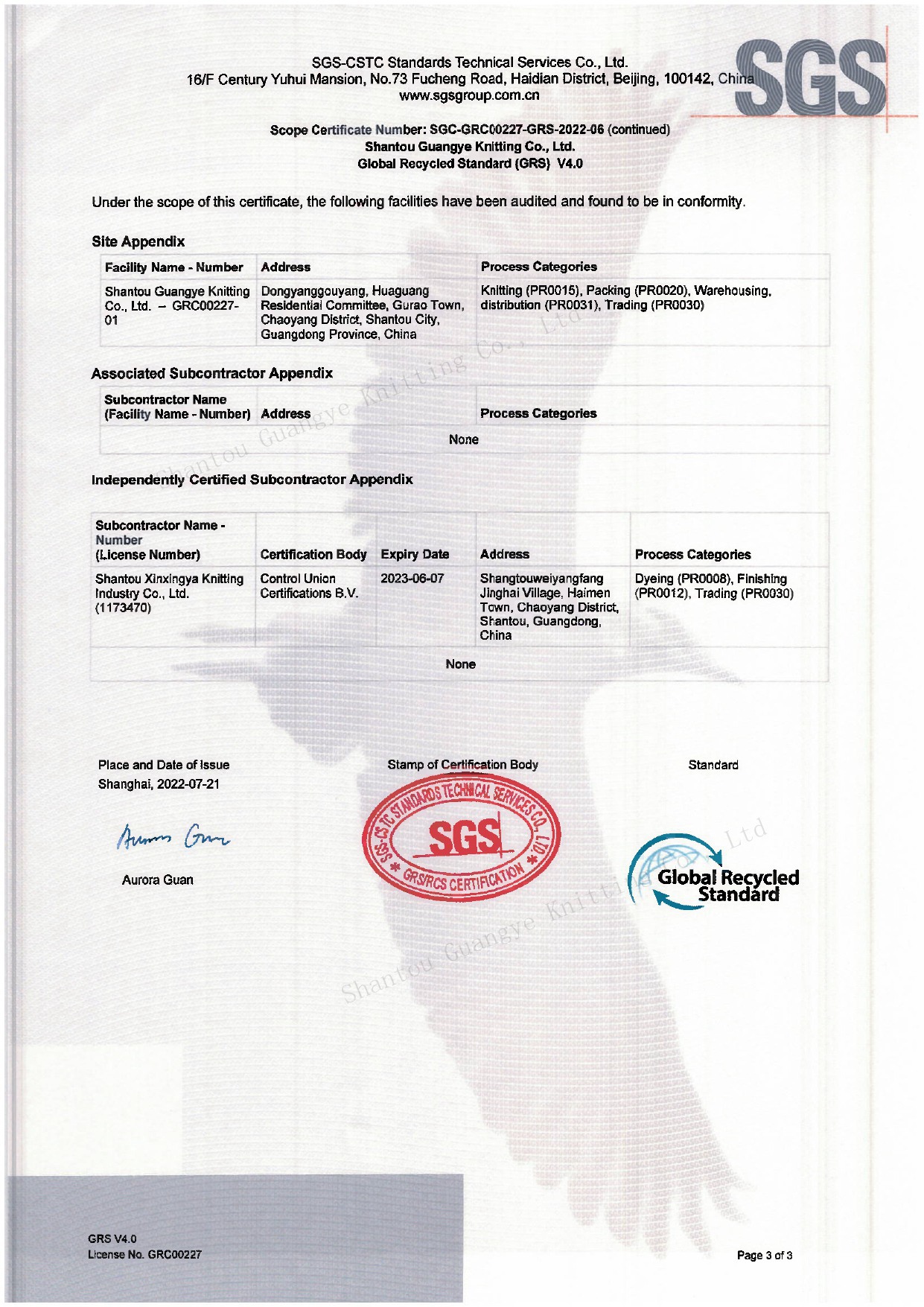 GRS&RCS-F30 GRS Scope Certification photo 3
Issue by:SGS-CSTC Standards Technical Services Co., Ltd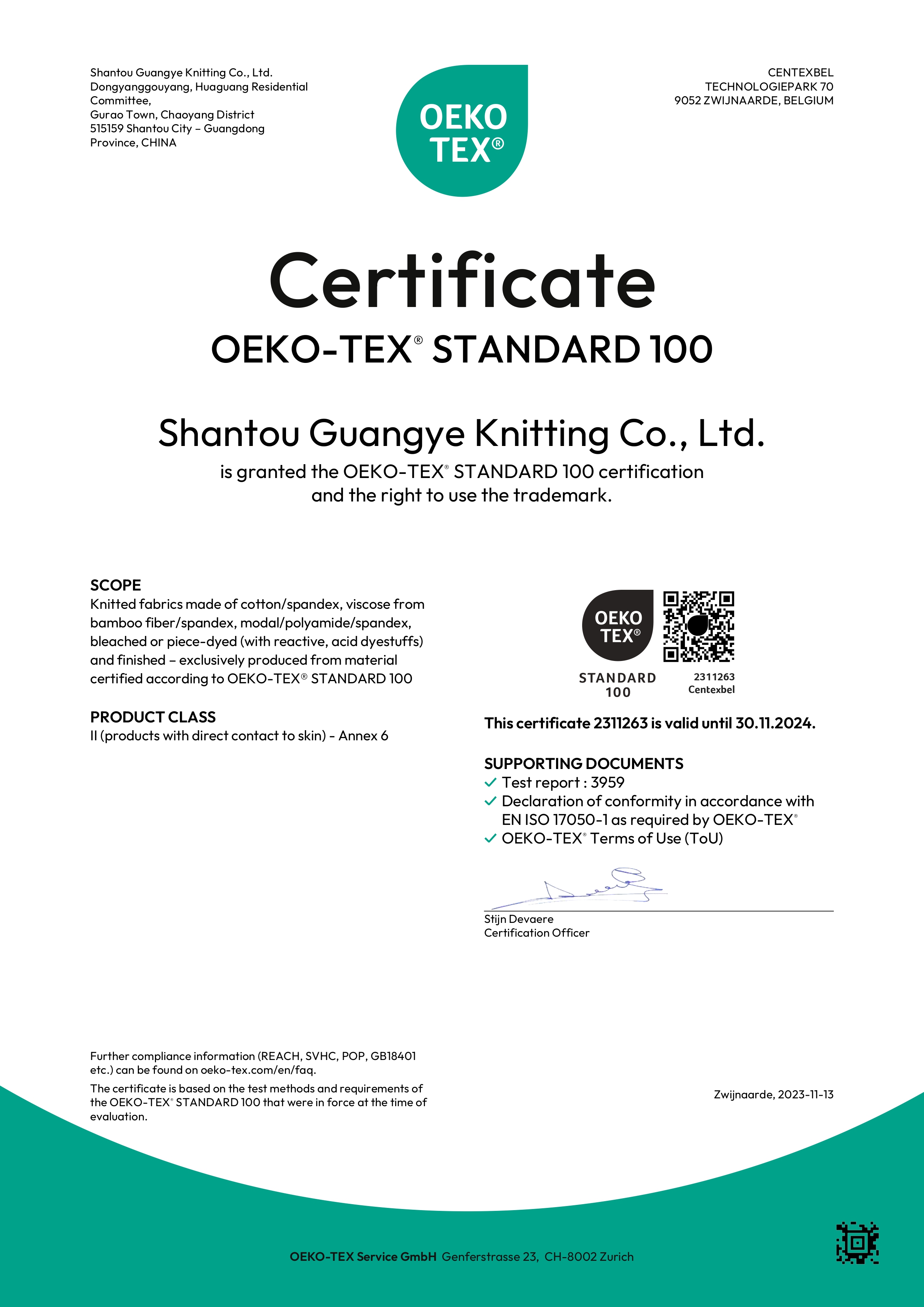 OEKO-TEX100 2022 XINXINGYA _English version
Issue by:TESTEX AG, SWISS TEXTILE TESTING INSTITUTE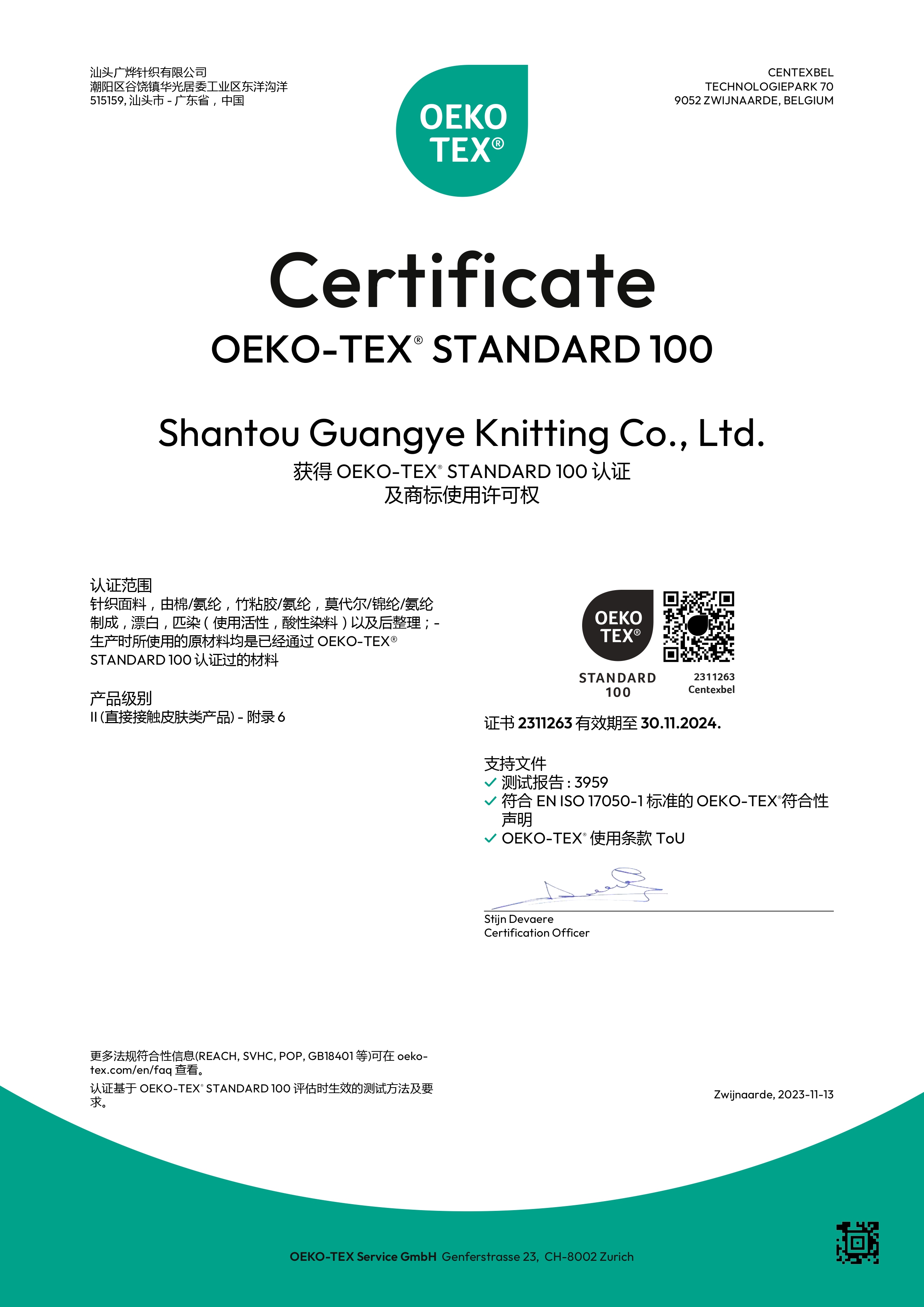 OEKO-TEX100 2022 XINXINGYA _Chinese version
Issue by:TESTEX AG, SWISS TEXTILE TESTING INSTITUTE